About Acquality Pool Service
With 20+ years of pool maintenance experience, Acquality Pool Service offers reliable quality pool service that is also punctual, professional, and discreet. Whether trying to figure out how to fix a green pool or how often you should clean your pool, you can count on our CPO experts to provide certified pool service in the Miami area.
Our CPO Certification Pool Service means we are Certified Pool and Spa Operators. We took and passed a test and training to properly and safely utilize the chemicals your swimming pool needs for the water to be of the best quality and avoid harmful water-borne illnesses as instructed by the Pool and Hot Tub Alliance. We are salt pool experts, also known as saline pools. We know how to treat salt pools and keep the salt cell in good shape.
We are an insured pool service business. Our General Liability Insurance gives you peace of mind. We are a family business owned by a husband and wife team.
Family values are at the core of Acquality Pool: here when you need us, mutual respect, caring, and nurturing. Count on professional pool service that is also innovative. We send digital reports, accept online payments and incorporate the latest pool industry technology into our pool cleaning service.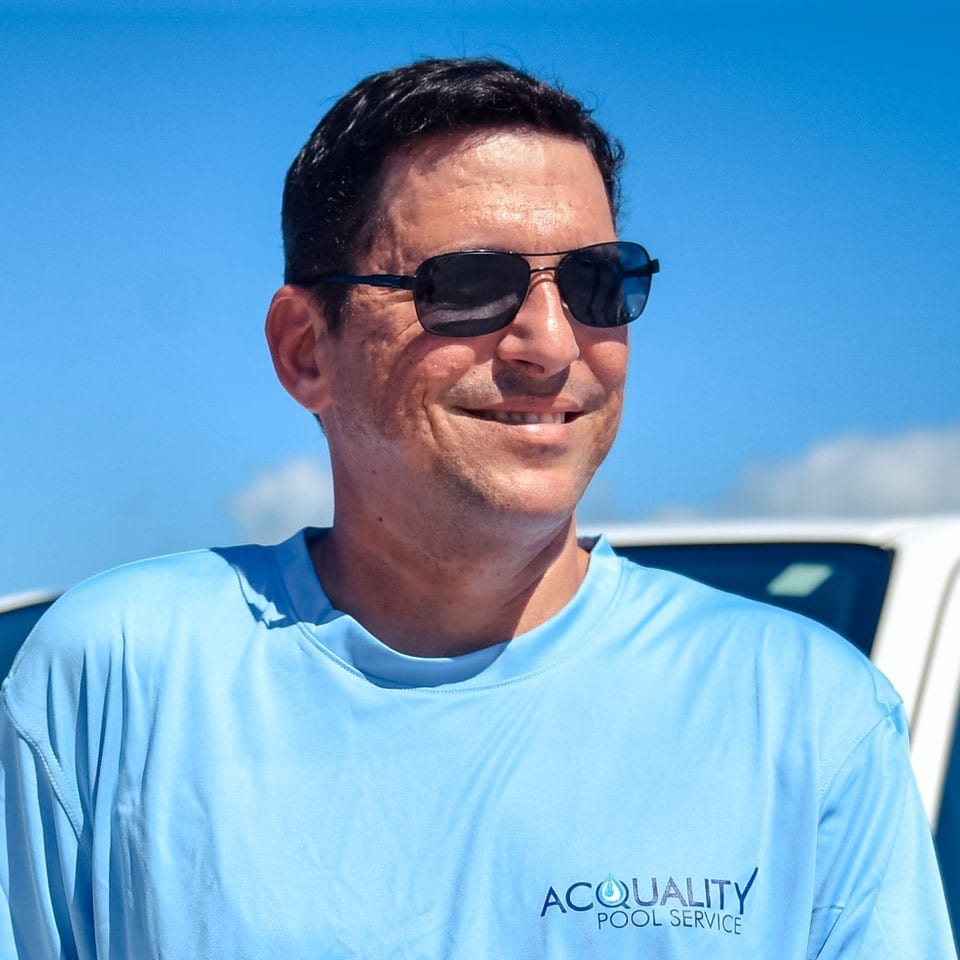 Carlos is in charge of pool maintenance operations. He supervises the work of our swimming pool technicians. He has a BA in Business Administration International Business from Keiser University, and an Associate Degree in Business Administration and Information Technology from Corporación Politécnico de la Costa Atlántica, Colombia.
After 10 years of working for another pool company as a pool tech, Carlos decided to start his own pool cleaning and maintenance business with the help of his girlfriend at the time, Beatriz. Together they followed all the necessary steps to operate in Florida including becoming NSPF Certified, getting insurance, buying a truck and equipment and designing and implementing a marketing communications campaign.
Carlos enjoys cooking bbq on the weekends and is an avid Hollywood movie watcher.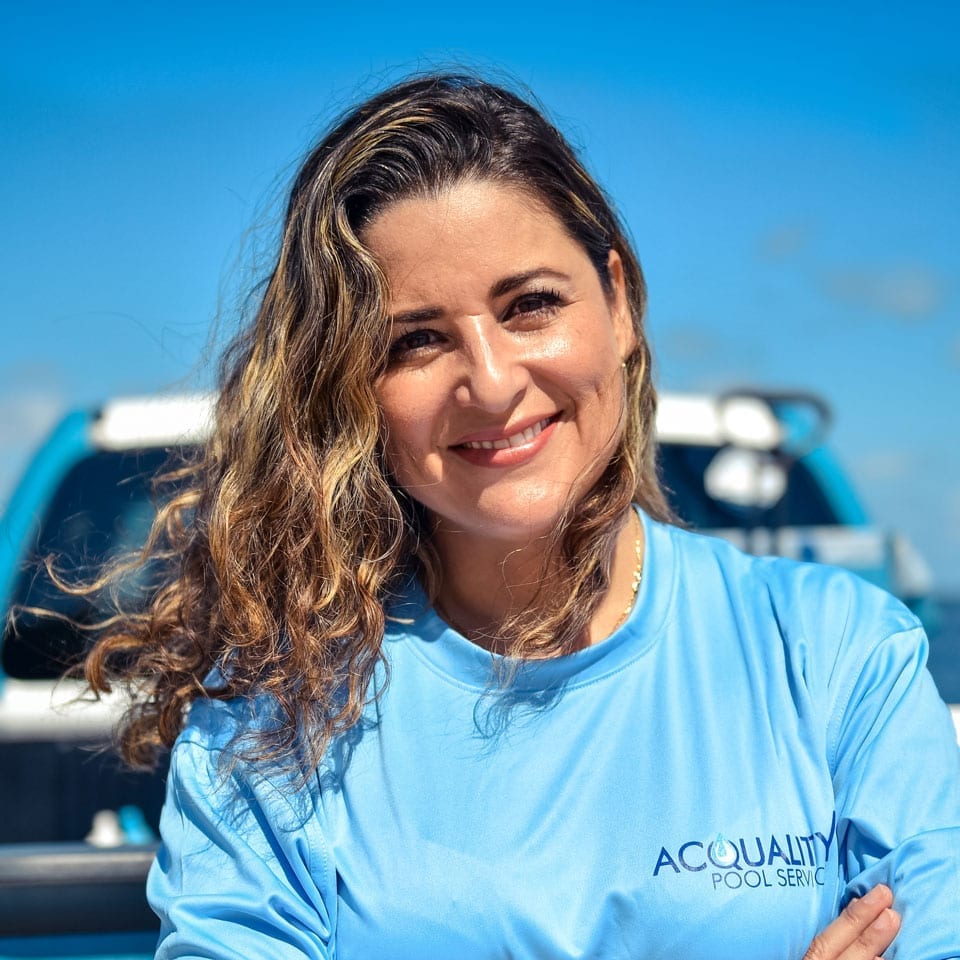 Beatriz is responsible for customer service, billing, and marketing. She has a BA in Mass Communication and Journalism from Pontifical Xavierian University, in Bogotá, Colombia, and also studied Film Production Technology at Miami Dade College.
After 20 years of working as a journalist for major Spanish language media like Univision and Telemundo, she embarked on the adventure of becoming a pool business owner. Today she applies her writing experience to write Acquality Pool's blog and newsletter. She is also in charge of the online marketing campaign and training our pool technicians.
In her free time, she enjoys reading, cooking, and baking. She is a creative writer with a published book of poetry and also enjoys writing prose such as short stories. She is constantly studying to improve her writing craft.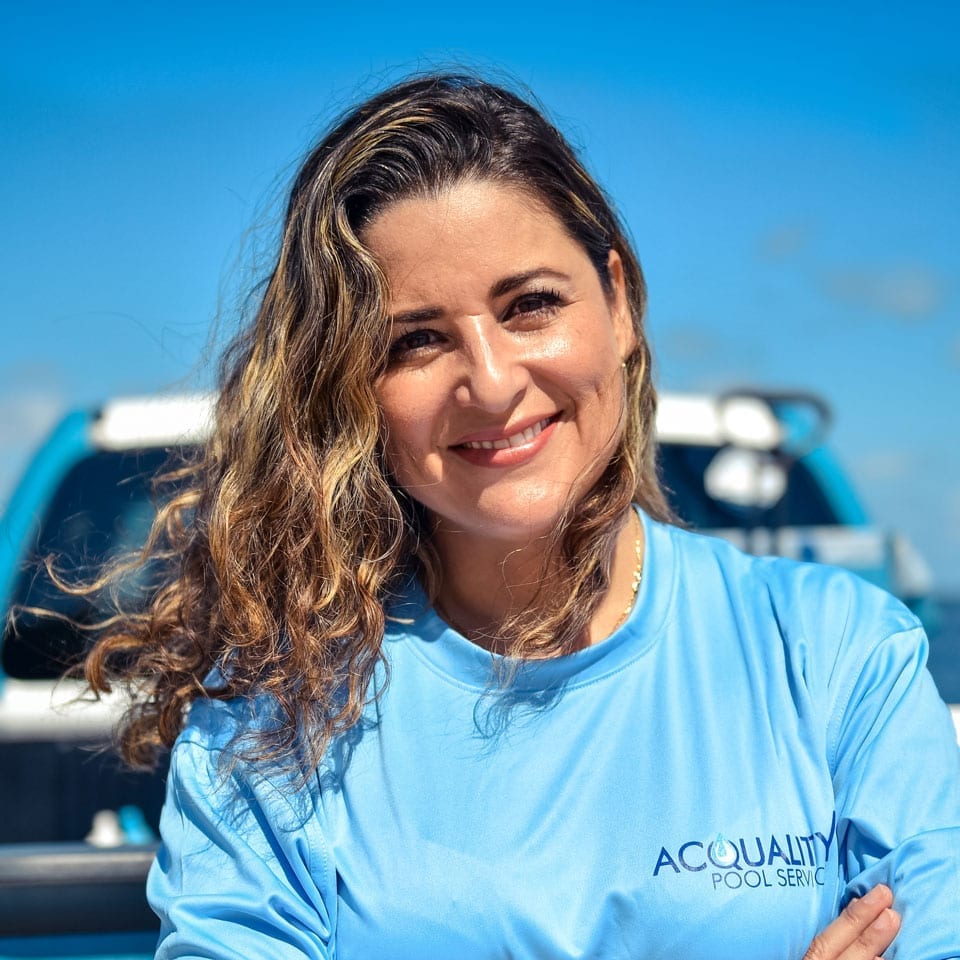 Acquality Pool was born, yes, born by a family and founded for families. Beatriz and Carlos wanted to have a baby. But she had a stressful newsroom job. So when she lost hers in 2015, they decided she would concentrate 100% on the new business they had incorporated a little over a year before. Beatriz nurtured Acquality with her online advertising knowledge, while Carlos fed it with his years of pool industry experience, excellent customer service, and professionalism. Acquality flourished to become a sprouting company focused on serving the residential pool business market. So while Acquality hired their first pool tech, Beatriz and Carlos were blessed with a baby boy that was born (dramatic pause) precisely four years after Acquality was incorporated in Florida. Family values are at the core of Acquality pool: here when you need us, mutual respect, caring, and nurturing. Welcome to the Acquality Pool family.