Now that we are spending more time at home you might want to make some home improvements. In this blog, we are going to show you some ideas to not only beautify your backyard oasis but to also make pool maintenance a breeze.
We enlisted the help of Séfora Chavarria, from the local landscaping design company Tropical Alchemy. Back in March, we met in Little Havana over a cafecito and she showed me some great ideas that I want to share with you.
Good landscaping design incorporates planting in different layers. "You want to have ground covers, meaning vegetation that grows only one-foot tall, small shrubs, medium-size shrubs and then palms and trees. Always remember to keep a 5 feet buffer space around the pool", she says.
When thinking about planting for the pool she recommends: "Use plants that have a lush tropical look and require little to no pruning, or if you prefer a more architectural look, use plants that are slow-growing and can be pruned into a neat hedge or plants that are xeric, meaning, requiring no irrigation"
Lush Tropical Look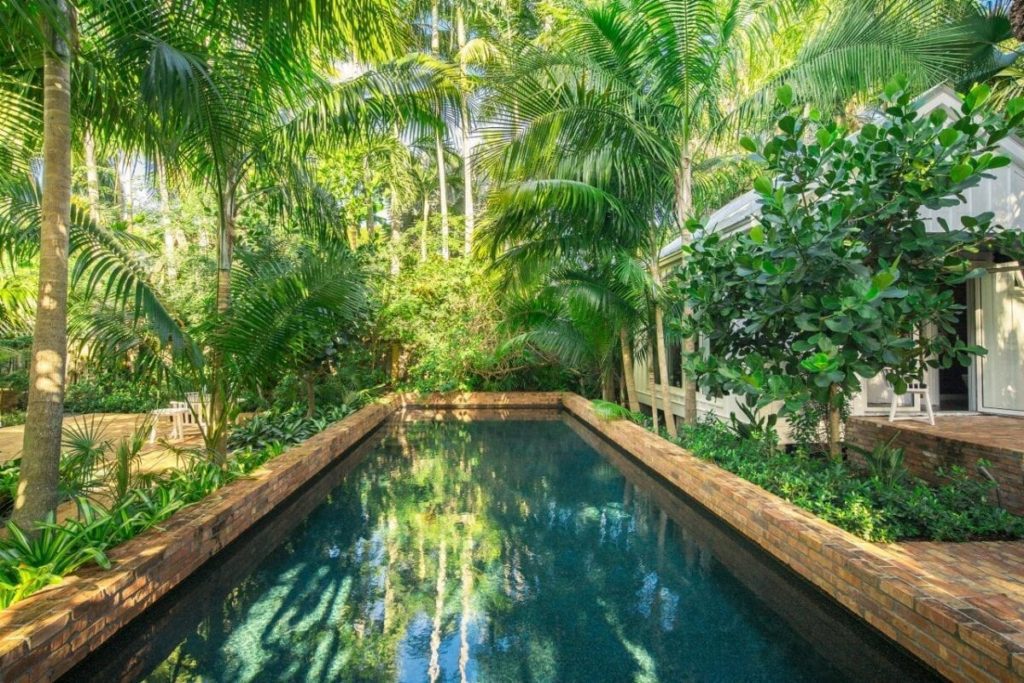 Ground cover: she recommends using Asiatic Jasmin, Flax Lily, or Wart Fern.
Shrubs: "You can have a relaxed jungle look choosing plants that have big leaves, are slow-growing and don't need any pruning, for example, the Monstera Deliciosa or the Dwarf Elefant Ear Plant"
Palms: "Pick a palm tree that does not produce a messy inflorescence like the Lady Palm". The inflorescence is a flowering stem, a special branch that carries a great number of tiny flowers. You can always keep your pool neat by cutting the inflorescence when it first appears. "Stay away from the Christmas Palm Tree, or if you are going to use it trim the inflorescence, and bring it inside your home to make a very beautiful flower arrangement"
Trees: "Smaller trees like the Ligustrum Japonicum give you enough privacy and have a nice scale for residential pools, they add to the landscape but don't dominate it", she says. When choosing a tree, Séfora recommends trees that are evergreen, meaning they keep their leaves all year long. "Deciduous trees like Oak, Maple, and Black Olive shed all of their leaves during the wintertime, they are very messy to have close to a pool". Another good choice for the tropical look is the Plumeria Obtusa, not to be confused with the Plumeria Acuminata. The obtusa has round leaves and stays evergreen. "The plumeria tree symbolizes paradise, it has a darker green color that contrasts nicely with the pool, you can enjoy the aroma of its flowers at night and it's not messy".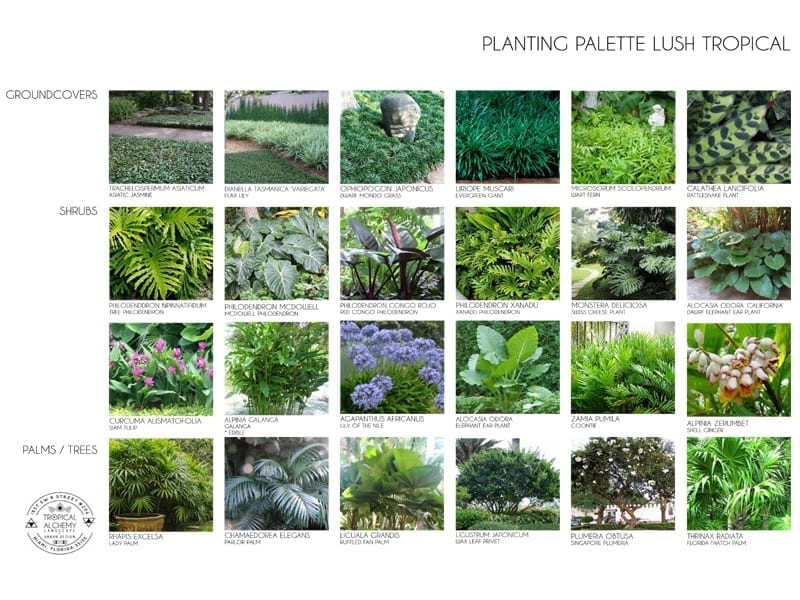 Architectural Look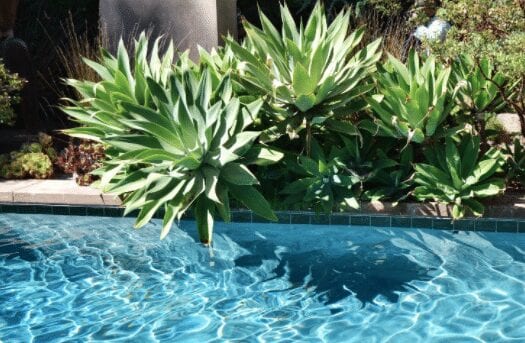 Ground cover: Blue Daze, Evergreen Giant, or Silver Dragon.
Small shrubs: "The Green Island Ficus only grows 2.5 feet tall, you can keep them short by pruning it or not, it's your choice, it is a slow grower. The Dwarf Yaupon Holly is also a slow grower that has small leaves", adds Séfora.
Medium size shrubs: "If you like the desertic look go for the Blue Fox Tail Agave, it has no spines, you can use rock mulch around it, so no need to have a lawn, they are very architectural and add a geometric style without the square edges of a hedge, plus require no irrigation and are a good choice if you have a modern look pool", she says.
Tall hedge shrubs:" If you want a taller hedge with a manicured boxy look, choose the Podocarpus, it grows well in tight places and does not shed leaves, like the Ficus."
Palms and Trees: Choose the Miraguama Palm, the Silver Saw Palmetto, or the Dwarf Sabal if you like pointy leaves. For trees, the Simpson Stopper and the Bridalveil Tree combine well with the architectural look. Stay away from Bamboo, even though it grows fast and tall, it sheds leaves all year long.
We hope these planting palettes contribute to creating a beautiful look that you can enjoy with ease in your little piece of paradise: your pool. Download the Planting Palette PDF by clicking here.
—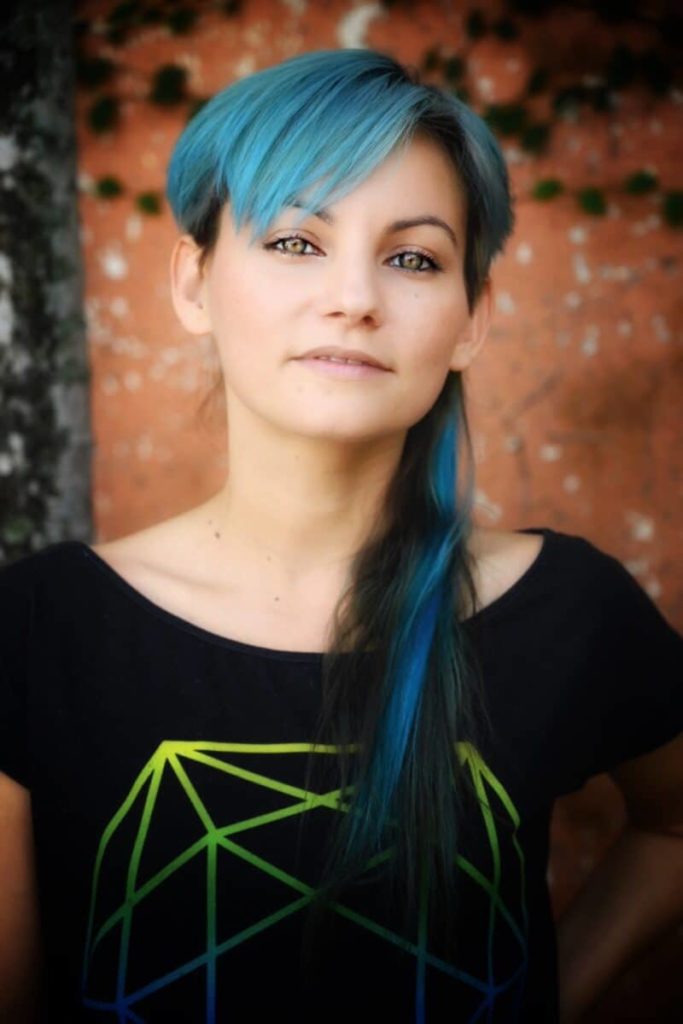 Séfora Chavarria is an international landscape and urban designer specializing in tropical landscapes since 2007. Séfora earned her master\'s degree in landscape architecture and environmental design from Florida International University in 2011. She is a member of the American Society of Landscape Architects, Urban Land Institute, Tropical Audubon Society, and the Florida Native Plant Society.
Séfora started her career in Bali, Indonesia working with renowned landscape architect and author Made Wijaya.
During her time in Bali, she worked on the iconic and award-winning Asian Garden component of the Naples Botanical Garden in Naples, Fl, and contributed towards Made's last published book Modern Tropical Garden Design.
Prior to founding Tropical Alchemy, Séfora worked at EDSA, an internationally distinguished, full-service planning, landscape architecture, and urban design firm with over 50 years of expertise. While at EDSA Séfora gained experience in over 30 projects